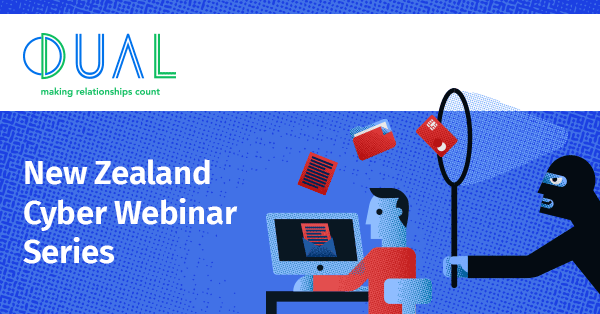 With only 1% of the 500,000+ SME businesses operating in New Zealand currently purchasing Cyber Insurance, we as an industry have a significant opportunity to talk to our clients about purchasing Cyber insurance. To ensure our Brokers have all the necessary tools and information to educate their clients, we thought it was time for another DUAL Cyber webinar series.
What you'll learn:
The 3 core areas of Cyber cover
The current landscape and claims environment
4 reasons why every SME should buy a Cyber policy
To register for the session please click on the 'Register now' button.

Are there any CPD points available?
Yes. CIP/CPD/IBANZ Points will be provided to all attendees who log on prior to the commencement of the session and remain active for the duration of the session.

After registering you will receive a confirmation email containing information about joining the training.

Each webinar will run for approximately 45 minutes with additional time for questions. The presentation is approved for 1 CIP/CPD/IBANZ point.